Activities and Schedule
Last updated: Wednesday, January 17, 2018 On this page:  Servers | Chocolate Festival |
| Annual Meeting |
| City of Lights | Caroling |Children's Pageant
| House of Hope | Food Pantry | Asylum Support | Next Vestry Meeting |
January Schedule
January Servers
Date
Time
Lector
Bearer
Altar Guild
Counters
12/31
8 AM
Warren R.
TBD
Sue Smith
10 AM
Kristin Everett
Georgia
Anne Marie M.
Priscille/David
1/7
8 AM
Don P.
TBD
Scott and Myra.
10 AM
Youth
Debra
Scott and Myra
Scott and Myra
1/14
8 AM
Jeff L.
TBD
Sue Smith
10 AM
Prudence.
Chigozie
Anne Marie
Prisceille/David
1/21
8 AM
Nancy W.
TBD
Scott and Myra
10 AM
Anne Marie
Chloe
Scott and Myra.
Gloria/CaroL
1/28
8 AM
Warren R.
TBD
Sue Smith
10 AM
Kristen E.
Georgia
Anne Marie M.
Gloria/Carol
* Click here to open the lectionary
2018 Chocolate Festival
This year's Saint Anne's Chocolate Festival will be on Saturday, February 24.
Annual Meeting
The annual meeting will be on March 4 right after the 10 AM service.
Christmas Pageant, 2017
Many thanks to Gloria and Bendu, who led the children in a Christmas pageant. The cast and the directors outdid themselves.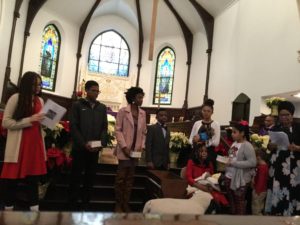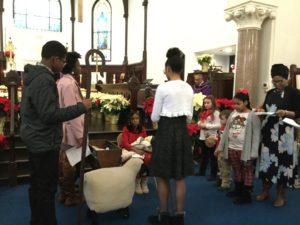 Santa!
Santa visited the Saint Anne's 10:00 AM service and made a big hit with kids and adults.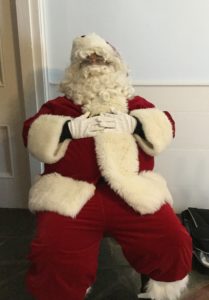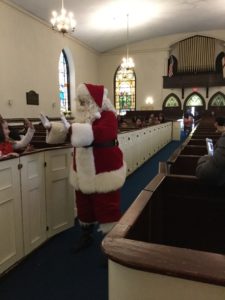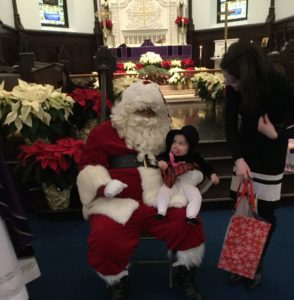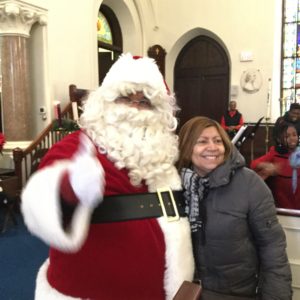 Caroling with Christ Church United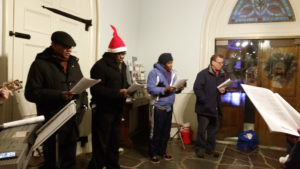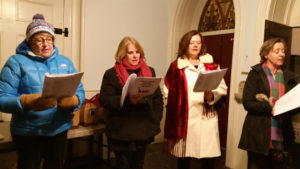 We shared a fun, COLD evening of caroling with Christ Church United. Enterprise Bank donated coffee and hot chocolate to warm us.
City of Lights Concert
Thanks to Beth Parsons, the Saint Anne's choir, and the Gentlemen Songsters for a beautiful concert.

Donations for Puerto Rico
We have had a generous response to our request for donations of clothes for Sor Reina. We are looking into sending the donations in February.
House of Hope at Fletcher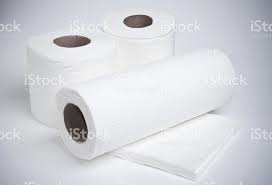 This year, Saint Anne's dedicated our Lenten donation to honor the late Peggy Smith by "adopting" and furnishing a room for a homeless mother and her children at The House of Hope at Fletcher. Saint John's also adopted a room in honor of Albert and Thelma Hoyle.
Our Christmas donation to the House of Hope has been a drive for paper towels and toilet paper. The children will be delivering on Saturday, January 20.
Food Pantry
On the first Sunday of every month, please bring non-perishable items that we will donate to the Lowell Food Pantry. These can be canned food, dry food, and paper products.
Project Asylum
On the third Sunday of every month, we collect donations for the Asylum Support Task Force.
Next Vestry Meeting
The next vestry meeting will be on Tuesday, February 14, in the Chambre room.