Activities and Schedule
Last updated: Saturday, November 18, 2017
On this page:  Servers | City of Lights | Stewardship
| House of Hope | Food Pantry | Asylum Support | Next Vestry Meeting |
November issue of fyi
Click here to open the November issue of the fyi newsletter from the Diocese.
City of Lights Concert
Beth Parsons is preparing for the annual Saint Anne's concert that caps the Lowell City of Lights celebration. City of Lights will be on November 25th (the Saturday after Thanksgiving).
Rehearsals have begun began at the church from 6 – 8 PM on Sunday evenings
Beth welcomes you and any of your friends who like to sing.
November Schedule
November Servers
Date
Time
Lector
Bearer
Altar Guild
Counters

11/5**

8 AM
Don P.
TBD
Sue S.

11/5**

10 AM
Anne Marie M.
Georgia
Anne Marie M.
Priscille and David
11/12
8 AM
Jeff L.
TBD
Scott and Myra M.
11/12
10 AM
Scottie F.
Debra
Scott and Myra M.
Scott and Myra M.
11/19
8 AM
Nancy W.
TBD
Sue S.
11/19
10 AM
Pru B.
Chigozie
Anne Marie M.
Gloria A & Volunteer
11/26
8 AM
Warren R.
TBD
Scott and Myra M.
11/26
10 AM
Anne Marie M.
Chloe
Scott and Myra M
Scott and Myra M.
* Click here to open the
lectionary
.
Stewardship
The stewardship campaign for 2017 is Journey to Generosity. Father Ennis has sent letters and pledge cards.
Donations for Church in Puerto Rico
We have had a request for clothes for Sor Reina, a church in Puerto Rico, where the hurricane recovery is slow and people are struggling to reclaim their normal lives. Look for the bin in the front of the Sanctuary.
Donations to Episcopal Relief and Development will be matched, dollar for dollar
During the holiday season and through December 31, your donation to Episcopal Relief & Development will be matched.  Click here for details.
The address is 815 Second Avenue, New York, New York 10017
Thank You, Scott and Damon
Thank you, Scott and Damon, for chauffeuring parishioners from Saint John's and Saint Anne's to Saint Margaret Convent in Duxbury on September 16. Everyone had a wonderful time.
Click here for Damon's photo album.
I

nvitations
Retreats:
The Rolling Ridge Retreat and Conference Center is offering a series of spiritual retreats in North Andover from September through December. For details, go to
their site
.
Savvy Caregivers: Free six-week session for family and friends who are active caregivers for those with Alzheimer's or related dementia. Tuesdays from October 31 through December 5, from 1 – 3 PM, at the Circle Home, 847 Rogers Street, Lowell. Register by calling 978-651-3034.
Our Sign is Back!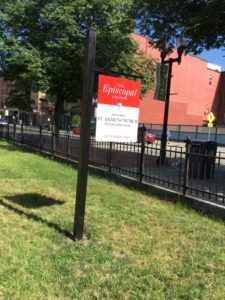 The Welcome to Saint Anne's Church sign hung for years on a grand old tree that was hit by lightning in 2015. It now displays on a beautiful post donated by Don and Beth Parsons. David Lynch secured the post to the ground, stained it, topped it with a finial, and hung the sign in style.
House of Hope at Fletcher
This year, Saint Anne's dedicated our Lenten donation to honor the late Peggy Smith by "adopting" and furnishing a room for a homeless mother and her children at The House of Hope at Fletcher. Saint John's also adopted a room in honor of Albert and Thelma Hoyle.
These rooms are now home to two families who are happy to live in a beautiful, safe, nurturing environment.
We donated needed supplies (adult body wash and baby wipes) on October 18 and we plan a Christmas-season donation!
Food Pantry
On the first Sunday of every month, please bring non-perishable items that we will donate to the Lowell Food Pantry. These can be canned food, dry food, and paper products.
Project Asylum
On the third Sunday of every month, we collect donations for the Asylum Support Task Force.
Next Vestry Meeting
The next vestry meeting will be on Tuesday, November 14, in the Chambre room.