Buildings, Entrances, and Parking
Buildings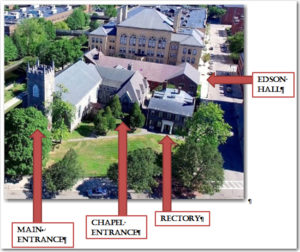 Saint Anne's is located at the corner of Merrimack and Kirk Streets in the heart of downtown Lowell. It is a complex of three buildings:
the church itself (which has a main entrance and a chapel entrance). We worship in the chapel during the winter months.
the Rectory (to the left of the church). The church offices are in the Rectory.
Edson Hall (behind the church and Rectory). Social functions and Youth Alive activities take place here. Living Waters is at the far end of Edson Hall, by Lucy Larcom Park. Enter from Kirk Street or by taking the path between the church and the Rectory.
Parking
There is no parking lot at Saint Anne's.
On street parking is free on Sundays in downtown Lowell.
There is a free parking across Merrimack Street in the Enterprise Bank parking lot, available on Sundays and during non-banking hours.
Nearby garages within walking distance are:
Leo Roy Garage,  100 Market Street
Edward Early, Jr. Garage, 135 Middlesex Street
Davidson Lot, 15 Davidson Street
Joseph Downes Parking Facility, 75 John St
Lower Locks Garage, 90 Warren St
George A Ayotte Garage, 1 Post Office Square