Pictures
Chocolate Festival, 2017
Thank you to all the guests and volunteers this year's Chocolate Festival the best ever!
Record Crowds!! 30-minute waits to get in!! Lines out to the street!!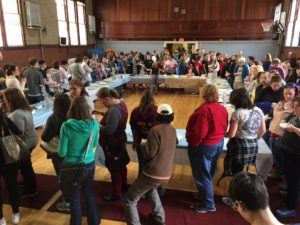 Christmas for our Children, 2016
Church Interior
We were very fortunate to have a local photographer come by – she's fascinated by local history and wanted to see the inside of St. Anne's, and we of course were glad to oblige! Click here to enjoy some striking images she captured of the interior and exterior of the church.
Father Ennis' Installation
Father Ennis was installed as rector on September 12th, 2015.
Chocolate Festival 2016