Youth
♦ Youth Alive After School Program at Saint Anne's
During the school year, on Thursday afternoons from 3–5 PM in the Chambre Room (Edson Hall).
Lowell teens are welcome to the Youth Alive program. Cooking … crafts … games … workshops. Something new every week.
♦ Saint John's After-School Program
St. John's after-school program at 260 Gorham St Lowell runs Tuesdays and Fridays from 3:00—5:00 PM and features tutoring,  Homework Club, and arts and crafts.
♦ Sunday School at Saint Anne's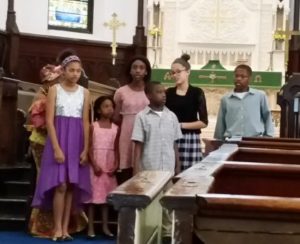 Our Sunday School learned and recited the Nicene Creed.
Sunday School classes begin at 10:00 AM for ages 5 years and above.
The lectionary-based curriculum "Living the Good News" is being used again this year.
The first Sunday of every month is "Children's Sunday," when Sunday school students play an active role in the 10:00am service.
Teaching this year is on a rotating basis in order that teachers may attend the 10:00 AM service on occasion, as Sunday School will meet at that time.
If you can give of your time to this worthwhile cause, please leave a message with the church office for Gloria Adigwe.
Remember, today's Sunday School students are tomorrow's church leaders!